ALC TALK ABOUT THEIR EXPERIENCE WITH BOLD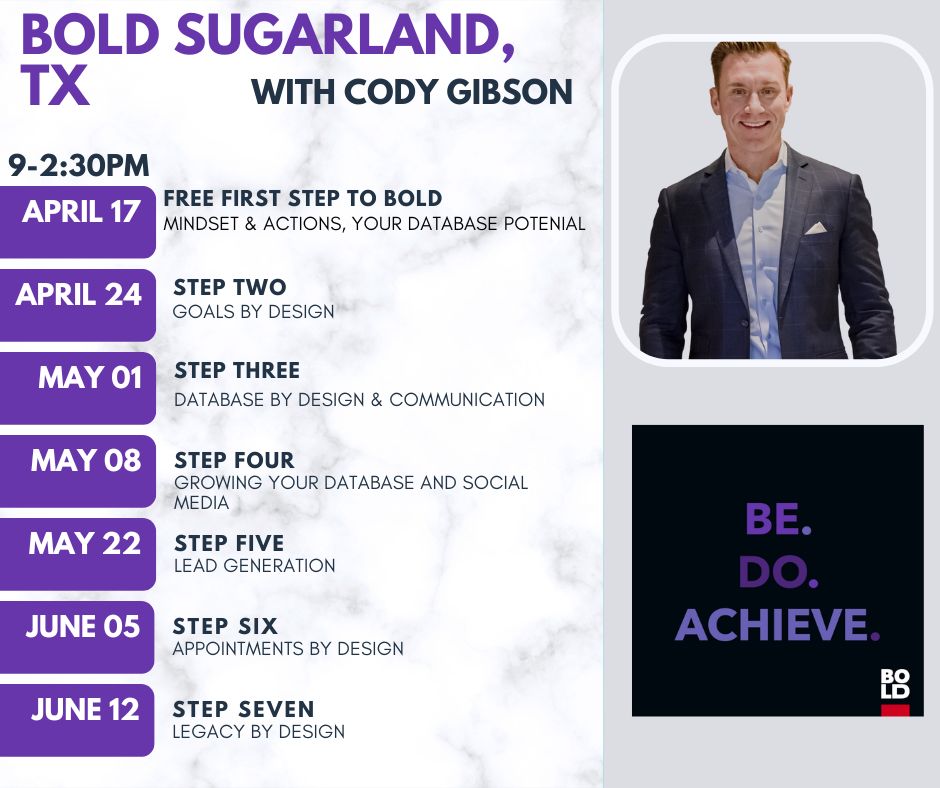 BOLD April 17- June 6 - Sugar Land, TX With CODY GIBSON, first time in Houston!!!
A changing market requires a change in approach. BOLD was created to help you shift your mindset and adopt the tactics and conversations proven to bring success in today's extraordinary business landscape.
Key Takeaways:
A reset of your mindset ensuring you can overcome your limiting beliefs and obtain big goals
Time-saving strategies and techniques to operate leanly and efficiently
Access to proven, timely conversations and the delivery methods that naturally influence people to work with you
Guidance on how to mine your database and leverage Command to run a digital-savvy business
Best practices for makings calls, setting appointments, and closing contracts RIGHT NOW
Monday, April 17 – Monday, June 12, 2023
9:00 am – 2:30 pm
Venue : 2600 Gessner Rd, Houston, TX 77080
Investment: $799
Format: Classroom
Duration: 6 weeks (5.5 hours, 1 day per week)
STEP 1 IS FREE, REGISTER TODAY!
ASK A MEMBER OF THE LEADERSHIP TEAM FOR MORE INFO TODAY!!
Questions? Contact Our Office